FABRIANO

: In the Name of Paper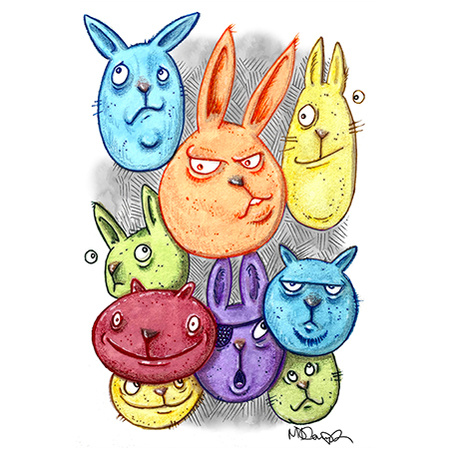 Growing up as a young artist, I had no idea what "good drawing paper" was and for me, I was happy just having ANY paper to draw on, so it didn't worry about textures, GSM, or what medium it was best suited for.
To me, paper was paper and most of mine came from my Dad, a science teacher. He brought home extra school papers and exams which he gave to me to draw on. It was great way to recycle and I had an endless supply of drawing paper. Back then, I didn't worry about things like quality.
But, as I got older and started taking art classes I was introduce to new papers like newsprint, vellum, and Bristol board and I finally began to see what "good drawing paper" was like..
When I was in college, we used to go to Johnson's Paint Co. in Boston where they had rolls of the best drawing paper whic you could buy it in custom sizes or in pre-cut sheets..
That's where I discovered Fabriano paper, named after the town in Italy where it's been manufactured since the 1200's! I immediately fell in love with their hot pressed paper and the thick, cottony fibers that just soak in color and radiate warmth.
Well, Johnson's Paint Co. is gone and finding good Fabriano paper means traveling a long distance to a store, hoping they have it in stock, or ordering online from a third party retailer..
So, after recently completing a large project, I decided to treat myself to my favorite paper, except this time I decided to order something special and order it right from Fabriano, Italy..
Knowing the shipping rates were going to be really expensive, I went to the Fabriano Boutique, online, and chose my purchases wisely.
I bought three items, the first being this adorable little sketchbook and two others.
The Hetra Minion Wishes book
This book costs about $18 USD, despite being tiny – just about 1-7/8" x 2-1/4" – or 5 x 6 cm - it's a beautiful little character that is masterfully constructed with a hard cover bound in a tight, canvas fabric, supporting 224 pages of Fabriano's classic Palatina Avorio paper, their uncoated ivory paper that's produced with elemental chlorine-free cellulose pulp..

It's a fine, archival white paper stock weighing in at about 85 gsm, which will be great for traditional mediums, like pencil or ink pens.
Fabriano says there is a legend tied to this little book: It is said to bring good luck to those who believe it: The idea is to take the tiny book, open to a random page and write a wish on it, then close it and forget about it. I get a kick out of that idea, so I plan to use it this way, just a little differently – I plan to open it to a random page, create a small drawing, close it, and then, forget about it.
HETRE is a design brand founded in 2001 by Italian artist Consolata Vittora Anguissola d'Altoé. She works with all kinds of paper manufacturers, designers, and publishers to create the most beautiful decorative wrappings, embossments, and outer dressings using linen, hemp, and cotton in a wide range of bold colors and styles. She focuses on treating objects we use in everyday life to conserve the essence of the user's manuscript and ex-temp-or-anious thoughts so they will be transformed to preserve memories without ever losing sight of elegance and funcionality."
Through the color and shape of the paper, fabric, and her unique sartorial and calligraphic finishes, her mission is to make our hearts move and to constantly inspire elegance.
Now, when I first got this in the mail, I took this little sketchbook out of the box and held it in the palm of my hand. At just 5 x 6 centimeters, I just laughed because it was probably the cutest little sketchbook I'd ever seen in my life.
It's so small – but, as I flipped through the pages, I realized, that despite its size, this was no joke. This is a very serious sketchbook, manufactured with exact precision, masterfully stitched and assembled with this Palatina Avorio paper – which is an uncoated ivory stock that weighs about 85 gsm, so it's ideal for pencil and ink, but I don't think I'd use markers or paint on it. And the outside wrapping is not only beautiful to look at, it's a toothy cotton fabric that is tightly bound to the book, with the embossed Fabriano logo on the backside..
And of course, imagining the craftsmanship that went into making this book, to me, is just staggering. But, what it really comes down to how I want to use this book and what my expectations are from it.
Fabriano's Bouquet of Notebooks
Fabriano paper has been a mainstay for me for decades and has been a favorite among artists throughout history, like DaVinco, Raphael, and Michelangelo. While the invention of paper-making is credited to China, the Italian paper-makers took the craft to a whole new level through the use of technology and unique materials. Fabriano continues to be one of the most respected and popular brands of paper in the world being synonymous with quality, style, and excellence. So, it's not hard to understand why this was such a big treat for me, and why I decided to share each purchase in a separate video – to celebrate the beauty of the paper, and also the mastery of their craftsmanship.
This Fabriano Bouquet Notebooks is a stunning set of seven, hand-made notebooks with seven different types of unique paper. According to Fabriano this set is their "Seven Senses of Paper," and I admit, that was what got me to make the purchase, in the first place! The books come in a colorful stack wrapped in a tight ribbon embossed with the Fabriano logo. Each book measures 5-1/2" x 4", and each one contains 38 pages of a unique kind of paper with various paper weights, around 85 to 100 GSM.
The name of each book is the Italian name for the description of each type of paper, which we'll get into in just a moment. Laying them out is like looking at a fresh bouquet of flowers and I couldn't wait to jump right into them when they arrived!
Now, it's impossible for me to give you a full, tactile impression of each of these books, so I'll do my best to describe the texture, tooth, weight, and feel of each one. The first thing I wanted to discuss is the transparency of the different papers which can help in gaining insight for the best mediums to use with each book.
The paper in this RED book is heavier, probably 100 GSM, and only slightly transparent. It's got a nice, smooth surface and I can tell I'm going to like using this paper. It seems like it would handle dry media and ink, very well, but marker would probably bleed through.
The pages of the ORANGE book are thin and tight and very transparent, which tells me the paper isn't all that absorbent so it's probably best to use a dry medium or ink, though I expect that ink would take a long time to dry, bleed through, and maybe buckle the page because it's so thin and tight.
Typically, the more transparent a paper is, the less absorbent it will be. The fibers are treated to remove air, making them harder than fibers that are untreated. The more opaque a paper is, usually means softer, thicker fibers that are more absorbent.
For the YELLOW book, the paper has a unique texture, which I'll talk about in a moment. This will be really good with dry media and ink. It's heavy weight may be able to handle very light washes of wet media and marker, too.
The LIGHT GREEN book has a nice middle of the road paper that's lighter in weight and somewhat transparent. The smooth surface will handle ink and dry media well. Marker would need a blotter under the page, as I expect it would bleed through.
With the DARK GREEN book, the pages have remnants on them, giving them the most unique, visual look of the set. It's a heavier weight with a slight tooth to the surface. Ink would absorb nicely, but I think pencil might smudge on this paper.
The LIGHT BLUE book feels similar to the light green book, though it's more opaque and less smooth, which makes me think it will handle dry media and ink, best.
Lastly, the paper of the DARK BLUE book is heavier than the others and is more opaque. The surface has a really nice tooth and the texture is very familiar to me. I can tell just from the feel of it, that I'm going to like working with this book a lot!
So, when I look at other my other books, like the Moleskin sketchbook, I get a much better sense of just how good the quality of the Fabriano books is.
While Moleskin makes a good product, the paper is thin and transparent, and even though the book isn't very old – it has an old feel to it. I know from using it, the Moleskin doesn't handle wet media and marker bleeds right through.
With the Strathmore Recycled Paper sketchbook, the paper is thick and has tooth, making it nice for dry media and just okay for ink or markers. But, because it's recycled, I don't know exactly how many times it's gone through the recycle process, which may not be ideal for the environment.
With my favorite, go-to sketchbook – the Travelogue Hand•Book journal – the paper is heavy with a thick weight and surface tooth I like to work with. It's close to the BLUE Naturale book, though Fabriano's paper isn't as heavy and has a more sophisticated feel about it..
Well, obviously I'm really excited to dive into this Bouquet of Notebooks and see what they're all about! For my demonstration in the video, I used Windsor & Newton's Nut Brown ink, which will look great on these high quality papers.
1. VELLUTATA
The first book is the VELLUTATA, which means "velvety," which is appropriate for the smooth, lush surface of this paper. As I drag my pen across the page it glides easily and I can feel how rich this paper is. I really like that it's a heavier weight paper and is slightly transparent.
The nib of the pen doesn't catch or snag, at all, like it might with a less quality paper. The closest comparison I can think of is with the Crescent sketchbooks by RENDR which also have a nice, smooth texture, but have a heavy, bright white page that is virtually opaque. Even just creating an inside cover page, I can already tell that I'm going to really enjoy working with this book and the smooth, velvety paper.
2. PERGAMENTATA
The second book is the PERGAMENTATA which is parchment paper, a classic in the paper industry, which in ancient times was made using animal skins. Today, parchment is made by removing the air from the fibers and treating the pulp so it becomes gelatinized, making it very strong, tight, thin and transparent. But, because of this process, it's not absorbent so ink takes a long time to dry and when it does, it buckles the paper, lending even more to that classic parchment look and feel. This type of paper is very specific and I'm going to enjoy using this book more for writing than drawing.
3. GOFFRATA
The GOFFRATA book features an embossed paper that has a raised line pattern on it that makes for a wonderful, textured experience when writing or drawing on. What's interesting is that one side of this paper is smooth, while the other is textured. Writing or drawing on the smooth side is much like working with the first book, the VELLUTATA, in that my pen glides over the page without any interruption. Yet, drawing or writing on the embossed side results in a whole different experience when dragging the pen across those raised lines. It's definitely a fun paper to work with.
4. VERGATA
The fourth is the VERGATA, which means laid. It's a classic paper that's warm and smooth, but which has parallel lines that run across it, much like a watermark. The lines are caused when the paper is, literally, laid across a wire mesh and dried. The lines come from that wire mesh and give it that classic look which has become a standard in professional printing. What's nice is that the lines don't interfere with the surface of the paper, which has a bit of tooth to it, making it absorbent, but also allows the pen to move freely across.
5. ECOLOGICA
The fifth, called ECOLOGICA, represents Fabriano's commitment to preserving the environment. By using certified virgin fibers in their paper, they reduce the amount of waste that goes into the environment through recycling. This paper leverages materials grown in pre-planned forests, like cotton, linen, and hemp, which are all low-impact materials. This paper is treated with agents that are proven to be safe for the environment. The texture is smoother and softer than parchment, but has a similar feel. I love that you can see artifacts in the paper, giving it a fresh, organic feel.
6. NATURALE
Number six, their NATURALE is made from unrefined, all-natural materials, like wood, leaves, and cotton stock giving it a classic, off-color hue and a slightly toothy texture. The pulp is thinned in the pressing process to remove air, but it's still highly absorbent, so drawing ink seeps so nicely into the fibers.
7. MARCATA
Lastly, number seven, is the MARCATA, which means "marked" or in this case, "felt-marked." This is a really popular style of paper, used in sketchbooks, drawing pads, and even in greeting cards. The slightly rough, soft texture comes from the forming process where sheets of felt are used during the pressing of the paper to remove water. These sheets of felt are exactly what you think – sheets of cotton or wool that support the wet paper until it dries, leaving behind that slightly rough texture of the felt sheets. To me, the MARCATA, resembles the feel of the Travelogue Hand•Book journal, so I can see this book being one of my favorites in the set.
Now, as a disclosure, I don't get paid to promote these products. These are items I purchased and enjoy sharing with others who may not be aware of them. Also, I'm not a paper-making expert – not at all! So, if any of the terms are confusing, I posted a link below to the Penicuik Paper Making glossary which is a great resource to understand paper terminology and how paper is made..
Penicuik Paper Making Glossary
Also, I've posted a link to a video by Cowling & Wilcox that brilliantly illustrates the entire Fabriano paper making process. It's really interesting and I recommend checking both links out.
Fabriano Mould-Made Paper Production
Overall, each of these books is masterfully assembled and the paper quality is what you might expect from one of the biggest names in paper. If I were to pick my favorites, it would be the Vellutata, the Marcata, and the Ecologica, though the others will be a joy to use and explore, as well. I'll keep them tied together – the way they arrived – and feel that same thrill whenever I take one out to express my creativity and try something new. And even though it was less than $25 American, the shipping to the US was expensive, making this a luxury purchase for those who really want to experience a range of unique, classic papers, or to buy as a wonderful gift for someone. As I said, for me, this was a treat for working hard and an indulgence for my creative spirit.
As I go continue, I think it's important to include a disclaimer that I have no affiliation with The Fabriano Paper Company and I'm not paid to promote their products or receive free products to try out. My reviews are based solely on products that I've purchased and believe are worth sharing with the art community, to hopefully inform, educate, and maybe even entertain..
These are very high quality products that I use in my own work, both professionally and personally. And I know from experience how much I appreciate a solid review of an item I'd like to buy – especially when it's an expensive one.
So, with that said, the last product I wanted to share with you is my favorite is:
The Fabriano Vergatone Notebook

While the book looks like a dozen other books I've seen in the market, upon closer inspection, I realized that this book has a lot more going for it than just any other notebook.

On its own, this gorgeous mid-sized book is a piece of art and it represents everything that Fabriano is about:
Unparalleled master craftsmanship.
Forward-thinking consideration for the environment

.

Maintaining Fabriano's long history of commitment to quality, style, and excellence.
It's fully, 100% percent, hand-made by master paper-makers in Fabriano, Italy, and the construction is like no other book I've ever owned. From the adhesives and the binding, to the tight stitching and the strength of the outer shell, Fabriano ensures that this product meets their highest standards and expectations. The name of the book, Vergatone, which comes from the Italian word verato or vergata, which means "laid," and it defines the outer texture of the book's cover and how it's produced.
In the paper-making process, the paper is literally "laid" across or rolled through a wire mesh where it's suspended or pressed to dry, leaving behind the markings of the wire mesh on the paper, much the way a watermark is created. A long time ago, people didn't care for this effect and it was rejected as being flawed; but, at some point throughout history, the symmetrical patterns became so popular, that even today, "laid" paper is considered among the classiest styles of paper used for legal documents, official papers, and professional resumes. I absolutely love the feel this book's cover. Most sketchbooks I own have a fabric or leathery finish to them that give them a familiar, tactile feel. This book, however, with the deep grooves left behind by that wire mesh, gives your fingertips a surprise, joyful spark the moment you pick it up in your hands. And it's not just the paper on the outside of the cover that's exciting – it's also the core inside the cover that is made of a lightweight, durable stock that when you tap on it, sounds more like balsa wood than cardboard. But, probably the coolest thing about the outside of the book, is that the paper used on the cover is a tightly pressed, cotton fiber paper that will age beautifully. AND because it IS paper, it can be decorated or painted, just like any other paper.
This book costs about $28 dollars, American, but like the other items I purchased, the shipping cost is pretty hefty and almost made me cancel my order. So, for me, this was purely a luxury purchase, which I don't make very often. It also comes in other colors as well, including white which would be ideal for decorating. If you're looking for something very special to use with your own work, or for a really unique gift that will be appreciated by any artist, all three of these products I've reviewed in this series are worth taking a look at. So, with such high accolades and praise for just the outside of the book, you can probably imagine what the inside is like.
A little secret about myself, is that I have a very sensitive olfactory sense. Yes, my sense of smell is ridiculous and my family makes fun of me all the time! It's both a blessing and a curse! So, don't be surprised if you ever see me smelling new catalogs, magazines, or even a brand new pair of shoes! So, when I first opened this book, I was taken back by the unbelievably fresh, clean scent of the paper! It was like smelling freshly laundered sheets that were hung out to dry in a clear, sunny breeze!
All I can say is that I have never smelled any sketchbook this good in my whole life! But, again, the magic of this book isn't in the exciting cover or that amazing smell – It's in the paper!
And this paper is made from 30% pure cotton fibers, to make it soft, resilient, and really absorbent, and 70% virgin wood fibers, to make it incredibly strong, durable, and again, beneficial for the environment.
You may ask, "what are 'virgin fibers?"
Well, virgin fibers come from trees that have been freshly cut and farmed from responsibly managed tree farms and forests and have never been used or recycled before. Fabriano's virgin fibers are certified by the FSC – the Forestry Stewardship Council – that overseas the authenticity of these trees and their use in paper manufacturing. Because these fibers come directly from fresh trees, they are incredibly long, smooth, strong, and flexible. The paper made from these virgin fibers is "the cleanest paper" to come into the environment, and when it's finally disposed of, it enters the very first stage of the recycling process.
After it's been disposed, the recycling process to remove all the inks, glues, and foreign materials degrades the paper fibers to become rougher, shorter, and more brittle. Paper can only be recycled a few times before it has to exit the recycling process and wind up in a landfill.
Ironically, once it goes to a landfill, it starts breaking down. All the toxic agents that were used to continually recycle the paper can seep out into the landfill and eventually into the earth.
This is why the FSC promotes introducing virgin fiber paper into the world, to help keep new stock circulating instead of continually recycling existing old stock. The cool thing is that Fabriano uses certified virgin fibers and treats the pulp with agents that are proven to be safe for the environment. I love the fact that we've come light years with recycling since I was a kid, when it simply didn't exist. Now, when it comes to actually working with paper made from virgin fibers and fresh cotton, it's unlike working with any other paper. The slightly toothy paper, of this Fabriano book, is light and behaves like a nice cross between cold and hot-pressed paper. And while I love to use paper that's 100% cotton, especially watercolor paper, you can definitely feel the difference when using a virgin fiber blend over just plain cotton.
The results in painting with watercolors on this paper is exactly what most artists expect from paper, but rarely find from less thoughtful and well-produced papers. The way the water lays upon the page and slowly seeps into the fibers is extremely satisfying. When adding color, it's just mesmerizing to watch it seep, expand slightly, and slowly dry away. While watercolor paint does not go through the page, I wondered how far I could push it. I used a basic Sharpie, which notoriously goes through most paper, and was delighted that the ink stayed on one side. It did not bleed through!
I decided to try Posca acrylic paint pens, which deliver a heavy punch of paint on a surface. I was sure they would bleed through, but to my surprise, they did not! The fibers on this paper are very strong and hold liquid mediums very well. When trying dry mediums, I used three brands of colored pencil: the artist-grade Faber Castell Polychromos, the professional-grade Prismacolor Premiers, and the student-grade Arteza Expert pencils. All worked exactly as expected, which is that they were all terrific in delivering color to their predicted ability. However, I would say that creating a fully-realized colored pencil drawing in this book may not be the best idea as it would grind down pencils very quickly due to the tooth of the paper.
With fineline markers, I used the Sakura Micron, Copic Multiliner, Staedtler, and the Arteza pens to see the results. I definitely needed more pressure that a more smooth sketchbook. Again, the tooth would damage the nibs of these pens with heavy use. The nibs of the pens I used were all about .05 to .08, so I expect that larger nibs from 1.0 to 3.0 would work much better with a higher delivery of ink. The Fabriano Vertgatone notebook is easily one of the finest, highest quality books I've ever come across and I'm going to truly revel in every experience I have with this book.
Overall, all of these products are completely unique to each other, which is the reason I chose them. Without seeing them, it was a guess as to how they'd all perform and after using them all, I'm so happy that they each exceeded my expectations.
Thank you for checking out this post and if your interested to see the demonstrations, I've posted the videos above. You can also find them on my YouTube channel, along with lots of other art-related discussions, reviews, and demonstrations. If you have any questions or additional thoughts, please feel free to reach out and let me know. I hope you're doing well and keeping safe. Best wishes and as always, God bless!
Mark